<![if !supportEmptyParas]> <![endif]>
© 2005 by Helen Tafoya-Barraza.  All rights reserved. Written permission to reprint this article or to reproduce materials for use in the classroom and for research and other scholarly purposes must be requested in writing.  Permission to cite in scholarly works is hereby granted provided that appropriate citation, including to the original works is provided.  Inquiries regarding this article should be directed to Helen Tafoya-Barraza, MA, LPCC PO Box 263333, Albuquerque, NM  87125, htafoya@unm.edu.  Thank you.
<![if !supportEmptyParas]> <![endif]>
A Beginning History of the Day of the Dead
Helen Tafoya-Barraza, MA, LPCC
University of New Mexico
Spring 2004
<![if !supportEmptyParas]> <![endif]>
         The Day of the Dead, or more accurately, the Days of the Dead, has always evoked a great deal of fascination.  Often misunderstood as a morbid ritual, it is in fact a celebration of life and it reminds us that life is precious and fleeting.  The Day of the Dead is currently celebrated on November 2, which is All Soul's Day on the Catholic Calendar.  November 1st is All Saints day on the Catholic calendar and is also considered to be "el dia de los innocentes" or the day of the innocents.  This is the day that children who died quite young (before they had a chance to sin) were celebrated due to their "instant sainthood."  October 31st, commonly known s "Halloween" is All Hallows eve and is deeply rooted in many traditions.
         The Mexican celebration of the Day of the dead is rooted in the notion that ancestors and other departed loved ones return to earth one day a year and visit with family members and close friends.  These ancestors offer advice and guidance and are to be treated with respect and every hospitality.
Aztec Traditions
         Originally the Day of Dead celebration can be traced to Mesoamerican native traditions.  Chief among these is the Aztec month of "Miccailhuitontli" which was presided over by the Lady of the Dead, who was Mictecacihuatl and was dedicated to children as well as to the dead (Salvador, 2003).  This was during the eight month of the Aztec calendar and roughly relates to the current July or August.  Many people believe the month of Miccaihuitontli starts at approximately August 20 and goes for 20 days.  Then the month of Mictlatechutli begins immediately thereafter and also goes for 20 days (Delgado, C., personal communication 10-30-2004).
         In traditional Aztec mythology, " Mictlantecuhtli" was the lord of the dead and the King of Mictlan (Salvador, 2003).  He was traditionally depicted as skeleton or a person with a toothy skull.  "Mictecacihuatl" was the wife of Mictlantecuhtli and was the Queen of Mictlan, also known as the underworld.  Mictlan is the lowest level of the underworld, located far to the north.  Women who died while in childbirth and warriors who died during battle were the only ones who did not go to Mictlan after death. Therefore, Mictlan can be thought of as a type of purgatory.
         When Spaniards arrived on this continent they found the native peoples practicing a ritual that seemed to mock death.  These rituals had been practiced for over 3,0000 years.  The Spaniards would try to eradicate these rituals but were unsuccessful (Wikipedia, 2004).
         Aztec and other Meso-American civilizations would keep skulls as trophies and would display them during ritual.  Skulls were used to symbolize the cycle of death and rebirth.  Skulls were also used to honor the dead, whom the Aztecs as well as other Meso-American civilizations believed came back to visit during the month long ritual (Wikipedia, 2004).
         Unlike the Spaniards, who appear to have viewed death as the end of life, the native peoples viewed it as a continuation of life.  Rather than fearing death, they embraced it.  For native people, life was a dream and only id death did one become truly awake.  "The pre-Hispanic people honored duality as being dynamic," said Christina Gonzalez, senior lecturer on Hispanic issues at Arizona State University. "They didn't separate death from pain, wealth form poverty lee they did in Western cultures" (Palfrey, 2004).  Spaniards, considered the ritual to be sacrilegious as wells as  barbaric and pagan.  Feelings such as this are evidenced today in many born-again Christian cautions against "ancestor worship."
         In attempts to convert the native peoples to Catholicism, the Spaniards tried to end the observance of the ritual.  In order to make the ritual more Christian, The Spaniards moved it to coincide with All Saints' day and A; Souls' day (Nov 1 and 2 respectfully), which is still the dates when this is celebrated today.
Catholic traditions
         All Soul's Day began independently from All Saints day, or the Feast of the saints.  According to Catholic belief, monks in the seventh century offered a mass on the day after Pentecost for deceased community members (Cabrol, 2003).  Then late in the tenth century, Benedictine monks chose to move the mass for their dead to November second, the day after the Feast of all saints.  The custom spread, and in the thirteenth century, the Vatican added the feast day to the Church calendar. 
         In traditional Catholicism, the commemoration or honoring of all the faithful departed is celebrated on November 2nd, or, if November 2nd is a Sunday or other day of solemnity, then its celebrated On November third.
         On this Day clergy recites the Office of the Dead and all masses are requiem masses (Cabrol, 2003).  The basis for all souls day is the doctrine that the souls, separated from the body and not "cleansed" and still need to atone for past transgressions so are sent to purgatory.  Those still on earth assists these souls by prayers, good deeds and masses.  The basis from a theological perspective for the feast is the doctrine that upon departing form the body, souls are not perfectly free from venial sins or have not fully answered for or atoned for past transgressions.  Therefore, these souls are prevented from the "Beatific Vision", which can be thought of a joining with the Divine or attaining Enlightenment.  Therefore the faithful that remain on earth can assist these souls by good deeds and prayers.
         The Office of the Dead was composed originally to satisfy private devotion to the dead, and at first had no official character; St Isidore is credited with starting the Office as is St Augustine and St Ambrose (Cabrol, 2003).  These assertions have no foundation.  In its present form, the Office of the Dead, while possessing a great many ancient characteristics, cannot be older than the seventh or eighth century. According the official Roman Liturgy, the office of the dead is composed of First Vespers, Mass, Matins and Lauds.  Vespers are comprised of psalms cxiv, cxix, cxxix, cxxxvii, along with the Magnificat and the preces.  Matins are composed of three nocturnes, with each containing three psalms and three lessons.  Lauds have three psalms and a canticle.  The psalms are chosen because they seem to allude to the state of the dead.  These psalms are often read at funeral services as well.
Mexican Traditions
         In traditional Mexican culture, the Days of the Dead are when the family visits the graves and clears weeds and debris and otherwise tend to the graves.  Headstones are repainted or straightened as necessary, fences are fixed and any general repairs or maintenance of the grave that is needed is tended to during this time.  Unlike the United States mainstream where caretakers maintain graveyards, in Mexico it is the family/loved ones of the deceased who are responsible for maintaining the gravesite.  Much has been written and documented on the Mexican Day of the Dead traditions.  These traditions include, baking of the pan de muerto or bread of the dead, using the marigold also called the cempasúchil flower.  The marigold has a distinctive smell and is one of the longest lasting flowers into the beginning of winter (Salvador, 2003).  In more rural Mexico bread rings are used to symbolize skulls  (Delgado, C., personal communication 10-30-2004).  Native cultures would not often feel it was appropriate to use the actual skulls so many of the baked goods on the altar were there to symbolize skulls.  It is said that the rural Day of the Dead traditions differ significantly form the urban Day of the Dead traditions.  This assertion appears to be more and more true as information and modernization becomes more widespread.
José Guadalupe Posada
         Deeply imbedded into modern Day of the Dead celebrations is specific iconography of José Guadalupe Posada (1852-1913).  According to Shearer West (1996) Posada was Mexican illustrator and engraver most known for his metal print work of skeletons performing daily tasks of the living.  Perhaps his best-known image is that of La Catrina, or Lady Death.  Posada was born into a peasant family in Aguascalientes, Mexico and was apprenticed to a lithographer.  He eventually set up his own print shop in Mexico City and sold his prints cheaply (West, 1996).  Posada is known for making political statements regarding the Dictatorship of Profirio Diaz and used his art to make political statements.  As shown in Appendix I, four of Posada's most famous prints are presented.  The first, "la calavera Catrina." Is perhaps the most recognized of all of Posada's prints.  The second is "Calaveras depicting contemporary newspapers as skeleton cyclists."  The third is, "Calavera of Don Quijote." While the fourth image is entitled,  "Gran fandango y francachela de todas las Calaveras."  Like many great artists, Posada died in poverty yet since his death his artwork has become well known and is widely used and distributed as the copyright protection of his artwork has long expired.  The prints shown here, however, were taken from an online art archive called Artchive (2003). Today, it is difficult to find any urban Day of the Dead celebration that does not contain the iconography of José Guadalupe Posada. 
A. Chicano Power Movement
According to Tomas Ybarra Frausto (2003), a Mexican culture is based on the notion of "duality" that is the "eternal flow between opposites in the cycle of life and death.  Therefore, rituals or celebrations of death are also celebrations of life, as wells as of remembrance.   According to Frausto, Chicanos in the mid-1960's and early 1970's "created a mass national movement" of "cultural regeneration and recuperation and reclamation."  It is highly likely that Mexican immigrant farm workers and then "Borrowed" by Chicano nationalists as a statement of solidarity and cultural identification brought the tradition of celebrating the Days of the Dead, to the Untied States. 
In Albuquerque
         In speaking to several long-term residents in Albuquerque, few agree about who had the first Day of the Dead celebration.  Some people assert it was the South Broadway Cultural Center, some say it was the Raramuri Center and still others say it was Laura Hidalgo who host a celebration in her home.  It appears that asking this question is a bit like saying that Christopher Columbus discovered America.  Albuquerque's south valley and Barelas neighborhoods have always hosted a large immigrant population.  It appears that the celebration at the South Broadway Cultural Center was an offshoot of the celebration at St Francis Xavier church.  The exact history of how this celebration was brought to Albuquerque remains unclear.
         Approximately 30 years ago, Laura Hidalgo, a Conchera from the Mechica/Aztec tradition started a velacion in her home (Gomez, C, personal communication, 11-3-2004).  At this velacion or candle ceremony, Ms. Hidalgo's living room is turned into a walk-in altar.  Visitors bring in flowers for the altar and the red flowers are separated form the other flowers.  There is dancing and prayer and every movement during the prayer service is carefully choreographed.  Everyone in attendance becomes part of the ritual and is given a task, which normally consists of separating flowers or pulling apart flower petal. Those more familiar with the ritual use these flowers to make a staff, which those in attendance will be blessed with before the night is over.  The ritual starts at about sundown and continues through the evening ending at about sunrise. 
         The South Broadway Cultural Center usually has a day of the Dead art exhibit which opens usually a few days before the day of the Dead and continues through the month of November.  Altars and artwork are on display.  According to the archivist at the Cultural Center, the event has taken place for about 25 years and was the first formal Day of The Dead event in Albuquerque.  Although an argument can be made about the definition of the word, "formal," it is highly unlikely that this was the first Day of the Dead in Albuquerque given the neighborhood that the South Broadway Cultural is in and the memory of the velacion at Laura Hidalgo's home going on for about thirty years.   It is interesting to note that despite any claims, of a review of newspaper archives for the Albuquerque Journal and the Albuquerque Tribune show no newspaper articles regarding the Day of the Dead or Day of The Dead events prior to 1980.  
      Many people do not remember a Day of the Dead celebration until Sandra and Jorge Castro started a celebration at the Raramuri Center about 20 years ago.   Sandra and Jorge Castro have since moved out of state.  This celebration has now been taken over by La Raza Unida, a political party and Cambio, an activist organization.  The day of the Dead celebration started at the Raramuri center is not celebrated at the Westside Community Center in the South Valley and starts with the Marigold Parade.  There are floats and decorated cars in the parade along with many people dressed as skeletons walking along the parade route handing out candy.  Prior to the start of the parade, which begins at the Sheriff station on Isleta in Albuquerque's south valley, free face painting for those who wanted their face painted as a skull is offered.  The parade follows a about a three mile route to the West Side Community Center where plays, poetry, arts and crafts tables and entertainment are offered.  Several groups such as Cambio, the MEChA group at Rio Grande High, the La Raza Youth Committee and many others will set up altars at the Community Center and place pictures of both celebrities and family members.  It is common to see a picture of Selena and Cesar Chavez on the same altar as someone's mother, brother or child.
In my home
         When I was growing up in the north valley of Albuquerque, I remember very little about the day of the dead.  I remember my mother baking anise bread or pan de muerto around Halloween time but other than that there was very little done. One recipe for pan de muerto is provided in Appendix II. It was only I started attending college that I began to hear that this day was a day to be celebrated. When I moved to Phoenix in 1991, I was astounded at the lack of culture and the lack of cultural practices and/or a Chicano/Latino support network.  So I actively sought out whatever network existed.  I moved to Phoenix is mid-August and around early to mid-October I started hearing about a day of the dead celebration that was scheduled to be held at a park close to my home in Mesa, Arizona.  I took my then young children to this event and there we found the Chicano/Latino and immigrant community.  We met Zarco Guererro an artist, mask maker, performer and socio-cultural activist.  Zarco and his family make elaborate Day of the Dead costumes and co organized the rather large Day of the Dead event held annually in Mesa, AZ.   My children were about seven and nine years old that first year.  There were two people at the event dressed in rather large costumes one male and female.  These people represented la muerte and they would dance and play with the children and pass out candies.  I instantly saw how my children reacted to these images in a playful and relaxed sort of way.  I took this opportunity to talk with my children about the cycle of life and the celebration of time spent on earth when someone passes.
         The following May, these lessons and conversations were actively applied when my father passed away.  My youngest son Fernando and I were the only two people in attendance with my father when he passed away after a prolonged illness.  The next November was the first time I put up an in-home Day of the Dead altar to honor my father.  My sons helped me to clean the living room prior to setting up the altar then they helped set up the altar and participated in the altar dedication.
         Today, The day of the dead celebration is the largest get together at my home all year long.  My children invite their friends and many people bring food although I prepare the favorites of my father and now of my youngest sons best friend.
         This past February 2, 2004, my son's friend Perfillio (Perf) Montoya passed away under tragic circumstances.  Mistakenly pulled over by police officers because they thought he had just robbed a smoke shop.  Perf had reportedly just bought some cocaine reportedly for someone else, as he was not known by his friends to use cocaine.  It turns out the Perf swallowed the bag of cocaine believing it would pass through his system and he would not be caught with the drugs.  We later learned that Perf started seizing while handcuffed in the back of a police car and was unattended for a prolonged amount of time.  Paramedics say he was still taking when they came for him but that he died while in route to the emergency room.  This extremely tragic and unfortunate event caused a great deal of grief and feelings of desperation and confusion among the teenagers that often come over to my house.  The Day of the Dead rituals that they and Perf had been a part of seemed to help with the acceptance.  An altar was built and Perf was honored.  This past November a picture of Perf was again on the altar along with a picture of my father.  As guests come to my home for the celebration they bring pictures or mementos of their loved ones who have passed.
      The altar dedication is done by myself in private once the altar is set up.  I do not believe in prayer as entertainment so the altar is dedicated when I am alone.  Then a screen is set up in front of the altar and on November 2nd, was the guests arrive, they place pictures of their own loved ones or other mementos and are allowed to do their own dedication prayer in private.  Again as I do not believe in prayer as entertainment, the screen remains up until all the dedications have been completed.  Then the screen is taken down and a general blessing is given.  We then have a talking circle where guests share stories or thoughts about their loved ones.  After the talking circle is completed then we have the dinner and celebration.  The altar remains up until al the candles are burned down which can take 2 –3 weeks as I do not ever leave a candle burring unattended.  There are countless ways to set up an altar, and it is my belief that most important element of setting up an altar is intent.  Appendix III describes one method for setting up a Day of the Dead altar.
         It is interesting to me, how many young adults and teenagers attend and participate in this event.  It seems to me that our young people are searching for answers to difficult questions and a positive way in which to express their grief.  It matters little to me that this was not a ritual I grew up with.  It is a ritual and a practice that I have found adaptive in my own life and that I believe has helped my children, their friends and many others to have a healthy, positive and spiritual way in which to deal with death, grief, loss and the acceptance and the life cycle.  
Conclusion
         I liken the celebration of the day of the dead to the celebrations of Christmas, Easter and Thanksgiving.  In other words, every day should be celebrated as the birth and resurrection of Christ and every day we should give thanks for these gifts as well as for all the other blessings bestowed on us.  Ina similar vein, our ancestors and spirit guides should also be thanked and honored everyday ay.  The once a year celebration of the day of the dead serves as a reminder of the attitude in which we should conduct ourselves all year long.
References
<![if !supportEmptyParas]> <![endif]>
<![if !supportEmptyParas]> <![endif]>
Artchive, (2004). Prints of José Guadalupe Posada. http://www.artchive.com/artchive/P/posada.html, retrieved, April 30, 2003.
<![if !supportEmptyParas]> <![endif]>
Cabrol, F. (2003). The office of the dead.  The Catholic Encyclopedia, XI. Robert Appelton Company On-Line Edition, http://www.newadvent.org/cathen/11220a.htm, retrieved April 27, 2004.
<![if !supportEmptyParas]> <![endif]>
Delgado, C. October 30, 2004). Personal Communication.
<![if !supportEmptyParas]> <![endif]>
Gomez, C. (November 3, 2004). Personal Communication.
<![if !supportEmptyParas]> <![endif]>
Frausto, T. Y. (2003) Defiance Recreated: Remembrance, Discovery, Will: Chicano Customs on the Day of the Dead, in Artes de Mexico 2003.
<![if !supportEmptyParas]> <![endif]>
Palfrey, D. H. (2004). The Day of the Dead: Mexico honors those gone but not forgotten. http://www.mexconnect.com/mex_/muertos.html, retrieved 4/27/2004.
<![if !supportEmptyParas]> <![endif]>
West, S. (1996). The Bullfinch Guide to Art History: A Comprehensive survey and dictionary of Western Art and Architecture. Boston: Little, Brown and Co.
<![if !supportEmptyParas]> <![endif]>
Wikipedia (2004). Mictlan,
http://en.wikipedia.org/wiki/mictlan, retrieved 4/29/2004.
<![if !supportEmptyParas]> <![endif]>
Wikipedia (2004). Mictecacihuatl in Wikipedia, the free encyclopedia,
http://en.wikipedia.org/wiki/mictecachuatl, retrieved 4/29/2004.
<![if !supportEmptyParas]> <![endif]>
Wikipedia (2004). Mictlantecuhtli in Wikipedia, the free encyclopedia,
http://en.wikipedia.org/wiki/mictlantecuhtli, retrieved 4/29/2004.
<![if !supportEmptyParas]> <![endif]>
Salvador, R. J. (2003). What do Mexicans celebrate on the day of the Dead? In Death and Bereavement in the Americans, Death, Value and Meaning Series, Vol II. Morgan, J.D. and P Launganie (Eds.) Baywood Publishing Co., Amityville, New York, pp 75 – 76.
<![if !supportEmptyParas]> <![endif]>
© 2005 by Helen Tafoya-Barraza.  All rights reserved. Written permission to reprint this article or to reproduce materials for use in the classroom and for research and other scholarly purposes must be requested in writing.  Permission to cite in scholarly works is hereby granted provided that appropriate citation, including to the original works is provided.  Inquiries regarding this article should be directed to Helen Tafoya-Barraza, MA, LPCC PO Box 263333, Albuquerque, NM  87125, htafoya@unm.edu.  Thank you.
<![if !supportEmptyParas]> <![endif]>
<![if !supportEmptyParas]> <![endif]>
Appendix I. -   Figures, Jose Guadalupe Posada and others
<![if !vml]>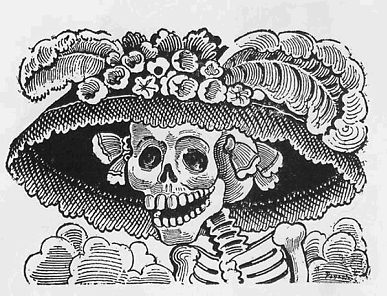 <![endif]>
"La calavera Catrina"
<![if !vml]>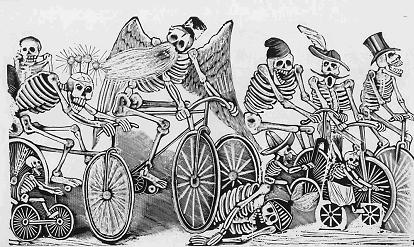 <![endif]>
"Calaveras depicting contemporary newspapers as skeleton cyclists"
<![if !vml]>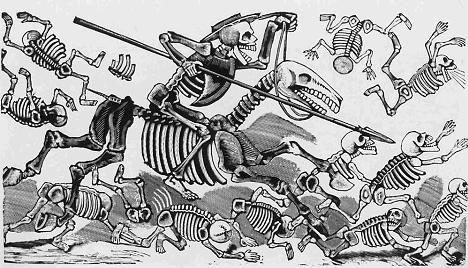 <![endif]>
"Calavera of Don Quijote"
<![if !vml]>
<![endif]>
"Gran fandango y francachela de todas las calaveras"
Appendix III. Recipe for Pan de los muerto (taken from http://www.azcentral.com/ent/dead/food/pandemuerto.html)
Pan de Muerto (Bread of the Dead) (From 'Look What We Brought You From Mexico!')
Ingredients
1/4 cup milk
1/4 cup (half a stick) margarine or butter, cut into 8 pieces
1/4 cup sugar
1/2 teaspoon salt
1 package active dry yeast
1/4 cup very warm water
2 eggs
3 cups all-purpose flour, unsifted
1/2 teaspoon anise seed
1/4 teaspoon ground cinnamon
2 teaspoons sugar
Instructions
Bring milk to boil and remove from heat. Stir in margarine or butter, 1/4-cup sugar and salt.
In large bowl, mix yeast with warm water until dissolved and let stand 5 minutes. Add the milk mixture.
Separate the yolk and white of one egg. Add the yolk to the yeast mixture, but save the white for later. Now add flour to the yeast and egg. Blend well until dough ball is formed.
Flour a pastry board or work surface very well and place the dough in center. Knead until smooth. Return to large bowl and cover with a dishtowel. Let rise in warm place for 90 minutes. Meanwhile, grease a baking sheet and preheat the oven to 350 degrees.
Knead dough again on floured surface. Now divide the dough into fourths and set one fourth aside. Roll the remaining 3 pieces into "ropes."
On greased baking sheet, pinch 3 rope ends together and braid. Finish by pinching ends together on opposite side. Divide the remaining dough in half and form 2 "bones." Cross and lay them atop braided loaf.
Cover bread with dishtowel and let rise for 30 minutes. Meanwhile, in a bowl, mix anise seed, cinnamon and 2 teaspoons sugar together. In another bowl, beat egg white lightly.
When 30 minutes are up, brush top of bread with egg white and sprinkle with sugar mixture, except on cross bones. Bake at 350 degrees for 35 minutes.
Makes 8 to 10 servings.
Appendix III. How to set up an altar (taken from http://www.mexweb.com/muertos.htm)
Day of the dead
How to make your own altar
What you need
The most important thing to put on your Day of the Dead altar is a photograph of the person to whom you are dedicating the altar.
The three-tier altar is covered in "papel picado" - which is bright colored tissue paper with cut out designs. The paper can be either handmade or purchased. Three important colors are purple (for pain) white (for hope) and pink (for the celebration).
Candles are also placed all over the altar. Purple candles again are used to signify pain. On the top level of the altar, four candles need to be placed - signifying the four cardinal points. The light of the candle will illuminate the way for the dead upon their return.
Three candy skulls are placed on the second level. These represent the Holy Trinity. On the center of the third level a large skull is placed - this represents the Giver of Life.
All bad spirits must be whisked away and leave a clear path for the dead soul by burning in a bracero, a small burner used to cook outside. Or you can use a sahumerio to burn copal or incense. A small cross of ash is made so that the ghost will expel all its guilt when it is stepped on.
The Day of the Dead bread, pan de muerto, should be accompanied by fruit and candy placed on the altar. Pan de Muerto is plain round sweet bread sprinkled with white sugar and a crisscrossed bone shape laid on top. You can also add the person's favorite food.
A towel, soap and small bowl are put on the altar so that the returning ghost can wash their hands after their long trip. There is a pitcher of fresh water to quench their thirst and a bottle of liquor to remember the good times of their life.
To decorate and leave a fragrance on the altar, the traditional cempasuchil flower is placed around the other figures. Cempasuchil comes from Nahuatl cempoalxochitl that means the flower with four hundred lives. The flower petals form a path for the spirits to bring them to their banquet.
http://www.mexweb.com/muertos.htm